To all the International students seeking Scholarship opportunities without IELTS, here is good news for you. Application for ADB Japan Scholarships without IELTS 2022 is now open to apply. The Asian development Bank Scholarships for Japan are announced for the academic session 2022. Students who are seeking fully funded Scholarships in Japan without IELTS are encouraged to apply.
This is wonderful news for International students as several Scholarships have been announced for the year 2022. The interesting thing is that they don't require IELTS.  For this year, they have announced 140 Postgraduate Scholarships in various fields, such as management science, economics, technology, and other related fields.
These Scholarships are offered by the Asian Development Bank, which is one of the most renowned banks. It aims to eradicate or reduce poverty. The ADB Japan Scholarships 2022 is a fully-funded Scholarship, the finances of which will be covered by the Asian Development Bank.
ADB Japan Scholarships without IELTS 2022 Details
Location: Japan
Scholarship: Asian Development Bank Scholarship
Degree: Postgraduate
Fields offered: Multiple
Finances: Funded
Deadline: 31st March 2022
Financial Benefits
The Asian Development Bank offers fully-funded Scholarships for International students however it will offer the following financial benefits,
– The tuition fee will be fully covered.
– Accommodation.
– Airfare costs will be covered.
– Medical insurance will be provided.
– Book and material expenses will be covered.
– A monthly subsistence allowance will be provided.
– Additional expenses for students who want to do research will be provided.
– Allowance for Thesis and Research Proposals.
Fields And Majors Available
Following fields and majors are offered in ADB Scholarships 2022 in Japan for Postgraduate degree program,
Accounting Business Administration/ Management
Commerce
E-Business Entrepreneurship
Economics
Finance
International Cooperation
Social Sciences
Asia Pacific Studies
Development Management
Development Studies
International Business Law
International Environment Law
Policy Studies
Political Science Public Administration
Public Policy
Agriculture
Biological Science
Computer Science
Energy
Engineering Environment
Forestry
Genetics
Health
Check University of Amsterdam Merit Scholarships 2022 – Study Abroad
ADB Scholarships 2022 Eligible Countries
Following countries can apply for Asian Development Bank Scholarships,
Tonga
Bangladesh
Samoa
India
Uzbekistan
Thailand
Timor-Leste
Viet Nam
Georgia
Armenia
Sri Lanka
Papua New Guinea
Afghanistan
Maldives
Pakistan
Solomon Islands
Tajikistan
Myanmar
Tuvalu
Federated States of Micronesia
Indonesia
Fiji
Bhutan
Cook Islands
Philippines
Nepal
Vanuatu
Azerbaijan
Palau
Kiribati
Lao People's Democratic Republic
Kyrgyz Republic
Niue
Turkmenistan
Cambodia
Marshall Islands
Kazakhstan
Nauru
Mongolia
Eligibility Criteria
Candidates interested in ADB Scholarships must be National of ADB countries.
A bachelor's degree or its equivalent is required.
Applicant must be younger than 35 at the time of application.
Applicant must be medically fit.
Applicant must be from the above-listed countries.
The scholarship constitutes 25 educational institutes, applicant must be enrolled in any of them.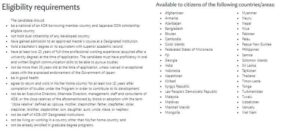 Documents Required
Candidates must have the following documents while applying for the ADB Scholarships in Japan 2022.
– Letter of intent.
– Statement of purpose.
– Two recommendation letters.
– A professional CV
– Certified copies of academic records.
Check Fully Funded Scholarships in Germany for 2022 | Study in Germany
Application Procedure for ADB Japan Scholarships 2022
The application procedure for ADB Scholarships in Japan without IELTS 2022 is online. Students who are interested in this scholarship must not miss out on this opportunity.
Applicants should apply six months before the time they want to apply. Deadlines differ from University to University. Visit the link below for application and details,
Also visit University of Oxford Scholarships 2022-23 for International Students
Note: For More Scholarships Please also join our WHATSAPP GROUP  for the latest update