German to go. Get Free German Online Courses and Learn German For Free.  How Good is your German? Learn the German Language From Basics to Advance. Learn Alphabets and Practice Pronunciation. The world's most popular way to learn German online.  If you are an English speaker, you are actually already quite advantaged. This is because German and English share the same Germanic root. German is the language of inventors and innovators.
German is an important language in Academia. With that big a number of award-winning scientists from its home country, it might not come as a surprise that German is very important in the academic community. In fact, it ranks second as the most commonly used scientific language. Germany is one of the Top Study Destinations for every student in this world.
Whatever plans you may have for the future, knowledge of German will increase your options. When you learn German you acquire a range of skills which can improve the quality of both your work and private life.  We have highlighted many free and best websites to learn german for free.  Consider Germany as your top next study destination. And Learn the German Language For Free with a lot of Free Practice Exercises. You People can always subscribe to thids website to get latest updates on language and scholarship opportunities for Free. [jetpack_subscription_form]

Details About Free German Online Courses
Why Should I Learn German? 10 Compelling Reasons
German is Easy to Acquire
German is the language of inventors and innovators
German is an important language in academia
German is the gateway to a world-class higher education
Germany is an economic powerhouse
German companies are global market leaders
German is the most widely spoken native language in Europe
German has a big online presence
Germans are everywhere
German culture is part of the world heritage
Helpful Resources to Learn German For Free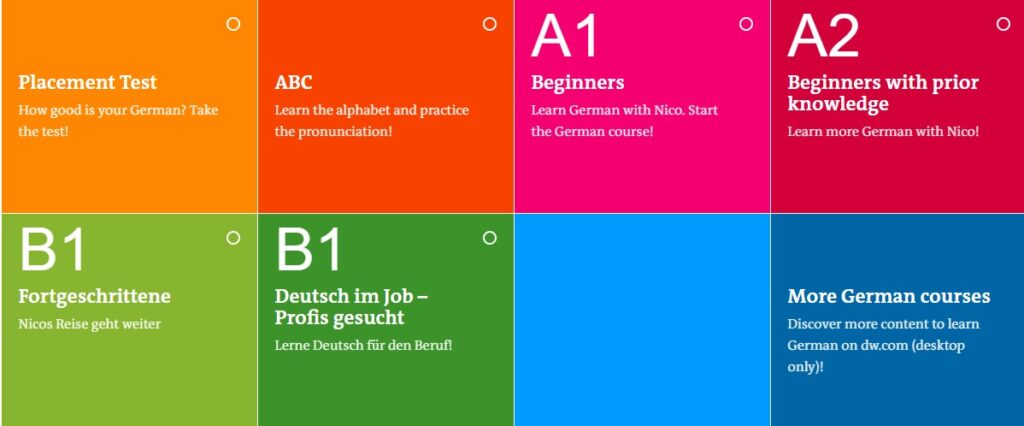 DW.COM is one of the Finest and Top website to learn German Online For Free. It contains Placement Tests, Exercises from basic to advanced. You can Practice and learn german for Free on DW.COM.
Access the DW Website (Here)
2. Deutsch Akademie
Deutsch Akademie claims to be the "most comprehensive" free resource for learning German. Here are a few of its best features.
3. Babbel
Obviously, Babbel is one of the big names when it comes to language learning. Their courses may come at a cost, but they have been tried, tested and proven effective.
4. BBC
Trust the world's oldest broadcasting company to inject an entertaining twist into learning one of the world's oldest languages. From stand-up comedians to F1 drivers, the BBC's selection of resources is a fun take on improving your German.
5. Duo Lingo
Duo Lingo is a household name when it comes to language learning. Its German lessons only take 5 minutes to complete but are presented in a fun, game-simulation session. Duo Lingo also claims that its courses are scientifically proven to work!
To Get More Latest Opportunities Please Follow us on Facebook Page, Twitter, LinkedIn, or Join our Telegram Group to Keep Updated.