What is SEO? and why SEO is the most important and trendy thing. SEO stands for "search engine optimization." In simple terms, it means the process of improving your site to increase its visibility for relevant searches. The better visibility your pages have in search results, the more likely you are to garner attention and attract prospective and existing customers to your business.
On any given day, people conduct more than 2.2 million searches. And that's just on Google — to say nothing of the other search engines. Therefore, showing up on the front page of Google can be the deciding factor between a business that's thriving and one that's, well, bankrupt.
You probably know that it stands for search engine optimization, but what do you need to optimize? Is it the design? Or is it the writing? Or maybe it's the links. Yes, yes, and yes — it's all of that and more. But let's start this SEO guide at the beginning
Details About SEO
Definition: SEO stands for search engine optimization. Which is the art of ranking high on a search engine in the unpaid section, also known as the organic listings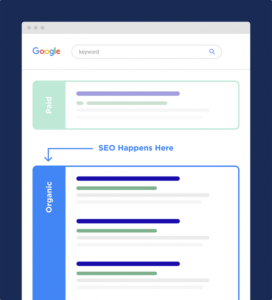 The main benefit of ranking for a specific keyword is that you can get "free" traffic to your site, month after month.

#1 SEO Tip for Higher Rankings
Create a website that people love! Search engines are designed to measure different signals across the Web so they can find websites that people like most. Play right into their hands by making those signals real and not artificial.
And now it's time to put this stuff into practice with a step-by-step SEO tutorial.
Finding Keywords
Now that you have a customer persona, it's time for the next step: keyword research. Keyword research is the process of discovering words and phrases (aka "keywords") that people use in search engines, like Google, Bing and YouTube.
Keyword Research Tips
Here are a few tips to help you find keywords. First, use Google Autocomplete. You've probably noticed this feature already. Whenever you start typing something into Google, you get a bunch of search suggestions: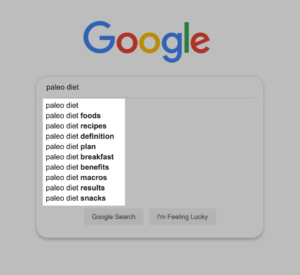 Next, use a keyword research tool.
In other words, they can help you choose the best keywords from your list. There are a million and one keyword research tools out there.
Here are a few I recommend checking out:
SEO-Friendly Content
It's no secret that SEO and content are closely linked. In general, the better content you put out there, the higher you'll rank. It's (obviously) not that simple. But it's a good rule of thumb to follow as you write content for SEO.
With that, here are more details on how to create SEO-friendly content.
Creating High-Quality Blog Content
When most people say things like "content is king", they're talking about the type of insanely useful content that gets published on blogs.
(In other words: not content that you'd find on most product and services pages).
Learning SEO
You can Get the Best SEO Examples and Tutorial from Backlinko. Backlinko is the best source for learning Seo For Free. From Baic to advance. Practical Training is available for free too. You can learn the Free SEO From Backlinko Here.
We have also Published the previous article on How to Become a Freelancer? Topic 1# Graphic Designing & How to Become a Freelancer? Topic 2# Content Writing.