The applications are invited to apply for the Sky Global Internship Program in Turkey 2022. This is an International Internship in Turkey for all International students from around the world. A fully funded all expenses covered Internship in Turkey for young men and women to spend one month in Turkey. Turkish Aerospace Inc. (TAI) is a distinguished industrial organization based in Turkey. The most amazing Internship inTurkey for International students. IELTS/TOEFL is not required for this Internship.
Enjoy Summer Internship in Turkey. All the Participants can apply without any language test requirements. There is No Application fee required. Undergraduate (Senior Students) and Graduate level (M.Sc. Ph.D.) students of all disciplines and backgrounds can apply to the Sky Global Program.
The dates of the Sky Global Internship are between May 15 and September 15, 2022. One month duration. Any Student with any academic Background is eligible to apply. There are no academic Requirements. Young Undergraduates, Graduates, or anyone. You will have cultural exchange with other youth from around the world. The detailed information about the Sky Global Internship Program in Turkey 2022 is given below,
Also visit Gwadar Development Authority Internship 2022 | 20,000 Stipend
Also visit Erasmus Scholarships for International Students 2022
Sky Global Internship Program in Turkey 2022 Details
Country: Turkey
Duration: May 15 and September 15, 2022
Financial Coverage: Fully Funded
Eligible Countries: All Nationalities
Deadline: 11th March 2022
Internship Fields
Undergraduate (Senior students) and Graduate level (MSc, PhD) candidates from the following discipline but not limited to,
Engineering (all branches)
Computer Science, Software Engineering
Business, Finance, and Economics
Communication, Journalism, Media
Linguistics, language schools
Social Sciences (All including but not limited to Education, Sociology, Humanities, History, etc.)
Financial Coverage
As stated above, Sky Global International Internship Program in Turkey is a fully funded all expenses paid Internship. All expenses will be covered This is a Paid summer Internship.
Full Accommodation
Meals
In City Transportation Expenses
Benefits of the Internship
Interns will be provided with the following opportunities,
Professional work experience
Gaining knowledge of basic subjects in engineering and business in the aerospace sector
Hands-on practice with real tasks
Taking on tasks related to the hi-tech projects and business management areas
Getting mentor ship and career support from sector seniors
Check CERN 120 Internships 2022 in Switzerland (Fully Funded)
Eligibility Criteria
It is open to all students from all Universities and Higher Education Institutes.
All Participants must return to their home country after the completion of the internship.
Candidates must have had at least 2 doses of Covid19 Vaccine accepted by the Republic of Turkey.
Minimum 2 doses BioNTech or 2 doses Sinovac and 1 dose BioNTech).
The vaccination certificate must be uploaded "other" section in the attached document.
Deadline
The last date to apply for the Sky Global Internship Program in Turkey 2022 is 11th March 2022.
Selected candidates will be Interviewed on-site in DIM DEX 2022 between March 21 and 23, 2022 (Interviews will be held in English).
Official Results will be announced on 7th April 2022.
How to Apply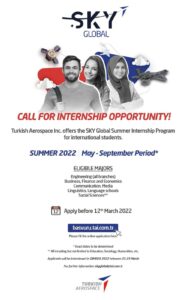 Also visit Internships in Europe 2021-2022 | Fully Funded
Note: For More Scholarships, Internships  Please also join our WHATSAPP GROUP  for the latest update.