Applications are open for Snapchat Internship 2022-23. Snapchat Internship program is announced for International applicants in different offices. It is fully paid Internship program. Applicant who want to make future bright have good opportunity to take part in this program. Internship is offering for Undergraduate, Master and PhD degree students. By this program students can work with brightest minds in the world. Interns are encouraged to make a real impact here at Snap.
Snapchat is engaged with social media it is an application with which people are connected with each other in the world. Specially in Golf countries and in KSA Arabic people use Snapchat much. Snapchat welcome good, kind and talented students to join the internship program across the world.  They are  hiring students Schools, Universities, with good academic record and professionals  to sets team hosting an intern.
Internship is open for students related to different fields and background. It also  provide various benefits for interns. The duration of Snapchat Internship will be about 3 to 4 months. There are also many more Internships 2022-2023 are open for International applicants in various places like,  WHITE HOUSE INTERNSHIP , META INTERNSHIP, and many more. So feel free to apply by submitting your Resume CV for Paid Internships offered by Snapchat. Further details are below.
Detail About Snapchat Internship
Company: Snapchat
Degree level: Undergraduate, Master's and PhD
Coverage: Paid
Duration: 3-4 months
Deadline: Ongoing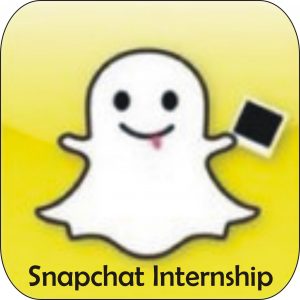 Financial Benefits
Internship program is fully paid and also offers some benefits for interns.
Paid Internship
Medical coverage
Gym perks and discounts
Team fitness classes, hikes, and races
Sports and other activities
Cooking and nutritional workshops
Intern Programs
CONNECT: 
Applicant will be connected with a mentor throughout the duration of your internship.
NETWORK:
During internship program Interns also have a have to connected with people and have a fun of various things. Snap offers many good opportunities to have fun in world wide.
Ready to Apply?
Before applying, applicant must have to prepare CV resume and the resume will be updated because it is the basic document which will be seen by Snap.
Applicant can see the  job description before applying.
Applicant can submit CV with detail information about work in one page.
Duration
The duration of the Internship program is 3 to 4 month open full year.
How to Apply
For more information and to apply for Snapchat Internship 2022-2023, please visit the following official link.
Note: For More Scholarships & Internships Please also join our WHATSAPP GROUP WHATSAPP GROUP , TELEGRAM GROUP for the latest update