The applications are currently open for Swiss Government Excellence Scholarship 2023 for international students from all over the world. Swiss Government  Excellence Scholarship is fully funded for students. Students who want to study Master and PhD degree programs can apply for this Scholarship. 500+ Scholarship programs are announced for student by Government of Switzerland. The most popular and best Scholarship program in Europe.  Also many other Scholarships 2022-2023 are open for International students in various places of world.
Switzerland is a European country, It is one of the famous place where are many popular universities offering funded Scholarship programs for International students. It is also popular place for tourisms. Scholarship is fully funded and will covers all the expenses like, Tuition fee, Monthly stipend, Accommodation, Health insurance and more. Swiss Government Excellence Scholarship open for more than 180 Countries students. For more information about Scholarship program see the detail below.
Also check: Spain Scholarships 2022 (Fully Funded)
Details About Swiss Government Excellence Scholarship
Host Country: Switzerland
Total Scholarships: 500
Financial Coverage: Fully Funded
Course Level: Masters, PhD
Deadline: 

30th September 2022 
Financial Coverage
Swiss Government Scholarship will covers the following expenses.
Monthly Stipend
Tuition Fee
Round Airfare Tickets
Accommodation
Health Insurance
Housing Allowance
Research Fund
Courses by Swiss Government Excellence
Research Scholarship
PhD Scholarship
Postdoctoral Scholarship
Art scholarship
Duration
The duration of Research Scholarship will be 12 Months Maximum
The duration of Doctoral Scholarship will be 12  to 36 months 
The duration of Post-Doctoral Scholarship will be 12 Months
Eligibility Criteria
Eligibility for Swiss Government Excellence Scholarship is different for every country. The criteria link is given below. You can see according to your country.
Select Your Country: Countries A – L / Countries M – Z
Swiss Scholarship
Research Scholarship is open for post-graduate researchers.
Art scholarship are open for art students.
How to Contact with Professor through Emails
To confirm about admission and Scholarship program offered by various Universities with or without IELTS/TOEFL applicant have to contact through email process with University professor in which University applicant applying. Some Universities of Switzerland required IELTS/TOEFL and some just required English proficiency Certificate, So see the following Email sample through which you can easily contact with professor.
Deadline
The last date to apply for the Swiss Government Excellence Scholarship 2023 is 30th September 2022. 
Application Timeline
Here is application timeline procedure for students to apply for Scholarship.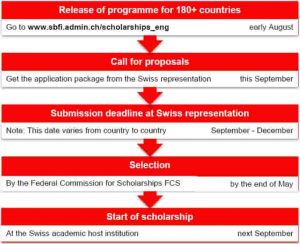 How to Apply
The Application Process is online but different for every country. To know more and to apply for Swiss Government Excellence Scholarship 2023, please see the official link below.
Note: For More Scholarships & Internships Please also join our WHATSAPP GROUP , TELEGRAM GROUP for the latest update