After Launching Free German Online Courses  Yesterday, we have now Introduced  18,00 Top Free Online Courses From Top Organizations and Universities. You will have access to these Free Online Courses Totally for Free. Many of the Universities tuned their education into Online courses due to current spike in COVID-19 again. Most of the Online courses are with Free Certificates. Not all the Courses have Free Certificates, but for some courses, you will get Free Certificates. We will tell you how to get One.
Many Students looking for Courses with free certificates so we have gathered all those online courses which have free certificates. The Courses Consist of Google, Harvard, Microsoft, British Council, Amnesty, World Health organizations and many more.  What's the good thing in these Courses? Most of the Online Courses are completely self-paced, so you can start taking them at your convenience at any time. All of these Online courses are completely free of cost. The courses are available to start right away.
I've been keeping track of these MOOCs the entire time. And More New Top Online courses will be added. Currently, these 18,00 Free Online Courses with Free Certificates are in the fields of Computer Science, Mathematics, Programming, Data Science, Humanities, Social Sciences, Education & Teaching, Health & Medicine, Business, Personal Development, Engineering, Art & Design, and finally Science. Almost all Subjects are available.
List of Top Free Online Courses From Top Organizations and Universities
UK's Open University Free Online Courses with Free Certificates (1,000 Courses)
UK's Open University is providing nearly 1,000 free Online courses across 8 different subject areas. The courses are available to start right away. On successful completion of our free courses, you will be awarded a Free Certificate by the UK Open University.
The Open University (OU) is the largest academic institution in the UK and a world leader in flexible distance learning. You will be awarded a Free Certificate by the Open University.
Health, Sports & Psychology
Education & Development
History & The Arts
Languages
Money & Business
Nature & Environment
Science, Maths & Technology
Society, Politics & Law
For more information Visit: Open University Courses
Google Free Online Courses (126 Courses)
Google Online Courses are Free and available with Free Certificates. We have come up with another best Free Online Course this time. You will receive a Free Google certified certificate upon the completion of the Online course from Google. Google is offering 126 Free Courses for now. Not all Google courses have Free Certificates. You will see a Badge stating Free certificates. 
Length of Google Courses:
The length of the courses during Google Free Online Courses 2020 is the following:
2 Hour
2 to 10 Hour
11 to 20 Hour
20 Plus Hour
For more information Visit: Google Online Courses
British Council Free Online Courses (22 Courses)
The British Council Online Courses will give you a clear understanding of the IELTS Academic Exam or the IELTS General Exam. With this Free Online course, you will learn about each section of the IELTS exam. The Four main parts of the IELTS as IELTS Reading, IELTS Writing, IELTS Listening, IELTS Speaking. The British Council is the United Kingdom's international organisation for cultural relations and educational opportunities.
For More Information: Visit British Council Courses Page
UNICEF Free Online Courses with Free Certification (140 Courses)
The UNICEF is offering Free Certificates of Completion for each course you complete. UNICEF is a United Nations agency. Many of you are looking for free certifications. UNICEF is a Great Opportunity to get a free certification as the world knows about UNICEF.
More than 140 courses announced by UNICEF, all are free with free certifications. The Courses are available in more than 6 Languages.
For More Information Visit: UNICEF Online Courses
WHO Free Online Courses with Free Verified Certificates (100 Courses)
World Health is celebrating 3 Million WHO Free online Courses enrollment in just 4 Months. The WHO Online Courses is open to anyone and you will get Free WHO Certificates. They have two types of certifications. Records of Achievement and Confirmations of Participation depending on course details. The World Health organization courses are available in multiple languages.
For More Information Visit: WHO Free Online Courses
Harvard University Free Online Courses (405 Courses)
The Enrollment for the Harvard University Free Online Courses is now open. Harvard University is offering 405 Free Online Courses for International Students to gain Practical knowledge during this pandemic time. Harvard University is the top of the world ranked University of the world. Now its time to Join Harvard.
The courses offered by Harvard University will be taken online. Candidates seeking for online courses that too free of cost are encouraged to apply. Do not worry, you do not have to pay for the Courses. All the course are totally free of cost. 
An example Screenshot is given below for the courses that they are free.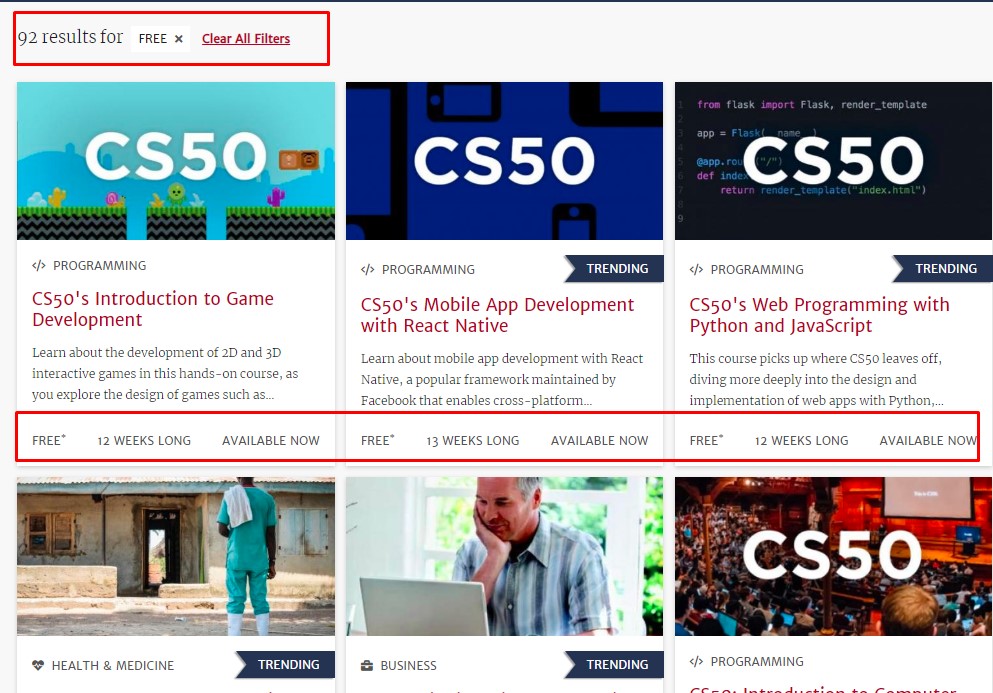 No of Courses Offered: 405
Fields Available: Many Fields Available
Courses Accessibility: Online
Deadline: No deadline
Available Courses at Harvard University
There are huge numbers of online Courses Available Right now in Harvard University Scholarship in America. This is one of the greatest opportunity indeed. Browse free online courses in a variety of subjects. Harvard University courses found below.
Art & Design
Business
Computer Science
Data Science
Education & Teaching
Health & Medicine
Humanities
Mathematics
Programming
Science
Social Sciences

For More Information: Visit Harward Courses Online
To Get More Latest Opportunities Please Follow us on Facebook Page, Twitter, LinkedIn, or Join our Telegram Group to Keep Updated.