The HEC in Pakistan has announced fully funded scholarships for Pakistani students. HEC Kingdom of Saudi Arabia Scholarships for the students of Pakistan. The Scholarship is open to Diploma, Bachelors, Masters, and PhD in the Kingdom. Students residing in Pakistan and legal residents of the Kingdom both can apply for these scholarships.
The scholarship is currently active on HEC Portal. Saudi Universities offered a large number of Scholarships to Study in Saudi Arabia. Just Google it  like Saudi Arabia Scholarships for Pakistani students 2022 and you will get to know about the 600 Scholarships in Saudi Arabia. These scholarships are offered by 25 universities in the Kingdom as given below.
75 percent of students will be awarded scholarship from Pakistan. Whereas 25 percent scholarships will be given to Pakistani students residing in the Kingdom. The scholarship is Fully Funded.  Also student have chance to study and get Scholarships from Jeddah University Scholarships. The complete details about the HEC Kingdom of Saudi Arabia Scholarships 2022 are available below.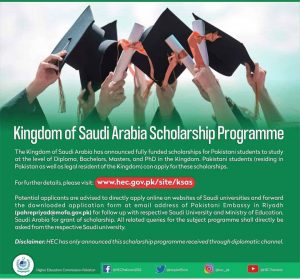 Details About HEC Kingdom of Saudi Arabia Scholarships 2022
Country: Saudi Arabia
Eligible Nationalities: All Countries
Degree: Bachelors, Masters, PhD
Also Check: Zong Graduate Trainee Program 2022
Benefits of the Scholarship
The benefits are associated with the Scholarships are,
The scholarship covers free lodging.
03 months furnishing allowance on arrival in KSA for married scholars.
Return air ticket.
Free medical for the students and/or their families, if married.
3 Months graduation allowance for shipment of books.
Subsidized meals at the campus.
Sports & recreational activities on the campus, support for dependents and travel expenses.
Monthly allowance, a monthly allowance of 900 Saudi Riyal (SR) will be given to science students and 850 SR to humanities students.
Procedure to Apply for Scholarships
How to Apply for the Kingdom of Saudi Scholarship?
Please Visit the Hec Website for the complete details.